Answer the Call to Adventure Today!
The Hero's Journey and the 5 Rhythms
With Robert Dilts and Deborah Bacon Dilts
June 12-16, 2013, in Vaals, The Netherlands
Contact Approche Psycho-energetique de l'etre
Telephone: +32 485 937 639
New On-Line Learning Program with Robert Dilts and Judith Delozier
NLPU 101: Practitioner Foundation Skills
is now available on-line. Try out the
first lesson for free
! Robert Dilts and Michael Dilts have evolved an exciting and fun new way to learn NLP starting at the beginning with
NLPU 101 Practitioner Foundation Skills
, now a prerequisite to every
NLP University Practitioner Certification
.
If you like what you see, hear and feel, join the
Dilts/NLPU International On-Line Learning Community
now. Bring the classroom with you - watch and learn at home directly from Robert Dilts and Judith DeLozier. Lectures, demonstrations and exercises are now available through video recordings of live classroom presentations. It is a brand new way to learn NLP.
Participate in this limited time offer. Subscribe now and benefit from future additions and enhancements. The low price of $930. US Dollars, includes tuition, a certificate of completion and a 2 year renewable membership with the
Dilts/NLPU International On-Line Learning Community
. For additional information, contact Teresa Epstein (
TeresaNLP@aol.com
) at NLP University.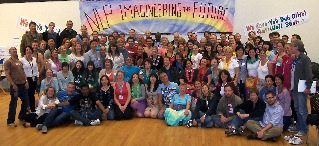 Photo Copyright © 2012 by D. Roundy
NLP University Summer 2013
There is still time to register for the following certification programs. Spend the summer learning with us at NLP University in beautiful Santa Cruz, California.
NLPU 100 Practitioner Certification
August 5-16, 2013
NLPU 200 Master Practitioner Certification
July 8-25, 2013
NLPU 200-B Master Practitioner Bridge Certification
July 15-25, 2013
NLPU 400 Trainer and Consultancy Certification
July 8-26, 2013
Please consult our
Schedule
and Course Description pages for more information.