The Bio of Michael Colgrass.
Michael Colgrass is a Pulitzer Prize winning modern symphony composer and NLP trainer. His creativity strategy for composing and performing music has been the subject of several NLP modeling studies. Some of these exceptional strategies have been presented in Tools for Dreamers (Dilts & Epstein, 1991) and Strategies of Genius Volume I (Dilts, 1994).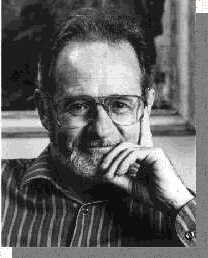 Michael Colgrass
Colgrass is also the founder of Deep Listening, a technique for using hypnosis with concert audiences, which is featured in the book Leaves Before the Wind.


---
Comments and Suggestions
For information on Robert Dilts' products and services, please see Upcoming Seminars or Robert's Product Page or return to Home Page. If you have problems or comments concerning our WWW service, please send e-mail to the following address: michaelp@bowsprit.com.
This page, and all contents, are Copyright &copy 1998 by Robert Dilts., Santa Cruz, CA.