The Bio of Teresa Bruner Epstein.
Teresa Epstein has been the administrator of the Dynamic Learning Center since early 1980's and the coordinator of NLP University since its foundation in 1991. Teresa was the wife of late NLP trainer and developer Todd Epstein, and an early acquaintance of Richard Bandler. Teresa attended the University of California at Santa Cruz, and was one of the first people to be awarded the Environmental Studies degree.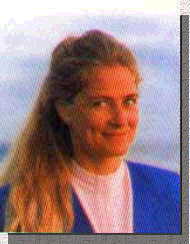 ---
Comments and Suggestions
For information on Robert Dilts' products and services, please see Upcoming Seminars or Robert's Product Page or return to Home Page. If you have problems or comments concerning our WWW service, please send e-mail to the following address: michaelp@bowsprit.com.
This page, and all contents, are Copyright © 1998 by Robert Dilts., Santa Cruz, CA.