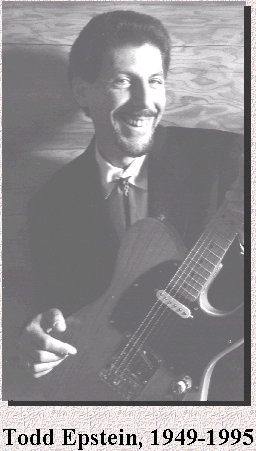 Todd began his involvement with NLP in 1979 with an extended apprenticeship with Richard Bandler during some of the NLP's most creative years. He was president of the society of NLP in the early 1980's and is best known for spearheading the development and introduction of what was to become today's powerful submodality technology. He contributed many conceptual and operational models including the Discovery Method for program design and the area of Pragmagraphics, which provided the underlying principles behind the development of the Threshold Pattern, the Swish Pattern and Meta Model III.
In the past decade he had been responsible, together with Robert Dilts, for the development of some of the most well known advanced level NLP techniques and models in what has become known as "Systemic NLP" such as the S.C.O.R.E. Model and the NLP "Jungle Gym". He also contributed important applications in the areas of special education, dynamic assessment, creativity, music and the treatment of substance abuse, including teenage drug abuse prevention and the systemic treatment of alcoholism and addictions.
Todd's mission as a developer, trainer and author was to further the scope and depth of NLP by making it "more global, humane and rigorous," and was one of the primary forces in guiding NLP toward a more systemic approach. Co-author of the book Tools for Dreamers, the monograph "NLP in Training Groups," and the forthcoming book Dynamic Learning, Todd also co-founded a number of organizations which have done a great deal to further the development and evolution of NLP including:
NLP University / Dynamic Learning Center - An organization committed to bringing the highest quality trainings in basic and advanced NLP skills and to the development of new models and applications of NLP in the areas of health, business and organization, creativity and learning.
Dynamic Learning Publications - Publisher of articles and monographs which represent the leading edge of the growing and changing field of Systemic NLP.
The Academy of Behavioral Technology - Based on Plato's criterion "to provide the opportunity to witness the fascinating spectacle of a thought in the process of being born," the primary purpose of the Academy meetings is to deepen the understanding of NLP epistemology through the development of assessment processes for basic and advanced level NLP skills.
As president of Dynamic Learning Center and chief executive officer of Dynamic Learning Publications, Todd made it part of his mission to bring the presuppositions of NLP to all levels of the global community and worked to make the most sophisticated patterns "user friendly." As an NLP trainer Todd will be remembered for his humor, his passion and his commitment to competence. While most people in the NLP community recognize Epstein as a dynamic and provocative teacher and developer, Todd considered his music another form of language and communication and was as committed to "reaching people through music" as he was through his seminars and writings. Growing up in Asbury Park, New Jersey, Todd was exposed to blues, R&B and rock & roll from an early age. He started playing guitar as a youth and was recording by the time he was 14. At one point, fellow Asbury Park musician Bruce Springsteen asked Todd to play bass in his band. Todd declined, explaining that he wanted to be a lead guitarist.
Also an exceptional vocalist and songwriter, Todd was one of the most influential and best loved Northern California musicians of the late 1970's and early 1980's. His bands included such highly respected groups as Airtight, Juice, Chameleon and Todd Epstein and Magic. As a musician Todd was remembered as "a dynamic and absorbing entertainer with a flair for the blues and a knack for getting to the heart of both his music and his audience" as well as for his "searing and lyrical vocals" and "dense and provocative jazz/rock chordings." In fact, he was known as "The Doctor" to many of the musicians he worked with for the way he could 'operate"-arranging music and "dissecting" a song in order to get to the heart of the matter.
Thus, in addition to his NLP work, Todd stayed devoted to his music. He had established a company, Tribute Music, formed the band, Todd Epstein and the Modern Blues Band, and was in the midst of recording a brand new CD of his own compositions when he died suddenly from complications of hepatitus c. Those who knew Todd will remember him not only for his spirit, energy and compassion as a teacher, but also for his inspiring creativity and his renowned blues guitar playing.