Practitioner Certification
NLPU 100
Next Generation NLP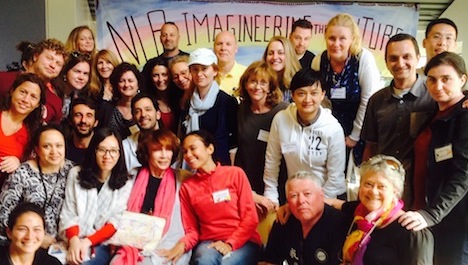 Lynne Conwell with NLPU Practitioner Class © 2016 Deb Roundy

Dates to Be Announced.
Tuition to Be Announced.

Includes NLPU 101 Practitioner Foundation Skills,
a fun self-paced prerequisite on-line course, complete
with video lessons, learning games and assessments.
Begin your NLP education with this comprehensive foundational training. In the NLPU Practitioner Certification Program, you will learn and practice the fundamental tools of Neuro-Linguistic Programming, benefiting from the very start of your training from the excellence and experience of world-class trainers Robert, Judith, and our Next Generation Training Team.

The way you begin to explore and experience the world of NLP - the education and mentoring you receive and the people who will be your teachers and classmates - will be "the difference that makes the difference" in how easily, quickly and efficiently you progress in your personal and professional NLP competency and evolution.

The NLP University Practitioner Certification Program is designed to provide participants with essential knowledge, skills and presuppositions to become an effective practitioner of Neuro-Linguistic Programming.

Through experiential exercises, participants will discover how to recognize and utilize basic patterns of language, physiology and inner experience to develop competence with fundamental NLP tools and techniques.

Some of the basic NLP skills participants will develop include:

Identifying Cognitive Strategies and Mental 'Programs'
Defining Well-Formed Outcomes
Strategies for Learning, Motivation, Decision Making, Creativity
Procedures for working with Representational Systems/Sub-Modalities
Recognizing and Utilizing Basic Language Patterns
Basic Anchoring Techniques
Recognizing and Utilizing Physiological Cues and States
Establishing Rapport and Communicating More Effectively

NLP Practitioner Certification will be awarded to those who fully participate in the program and successfully complete assessment. Free Gift! Certified Practitioners will be given access to the NLPU 201 Master Practitioner On-Line Course.

This NLP University Practitioner Program sets a high standard for the field. Graduate students and Trainers in the field of NLP come to this program to learn how Robert and Judy have designed it, how they teach it and the ways in which they continuously update and improve it.

Complete course description.

Contact Teresa Epstein, NLPU Coordinator
P.O. Box 1112
Ben Lomond, CA 95005
Phone: (831) 336-3457
Email: teresanlp@aol.com